What reality we choose to believe in is subjective, even in the most objective of environments for analysis. Magic poses an answer to the explainable, just as countless scientific tests can provide a truth to believe in. Though, scientific reasoning has deduced answers for so much uncertainty previously felt in the world, there is still a large gap in the human understanding of our own universe. There is possibility in the 'subjective' reasoning of myth and personal responses to provide other forms of 'truths'.
James Aldridge's paintings incorporate mysterious washed backgrounds, scientific diagram-like images of birds and other animals, along with the religious iconography of mandalas and elements of sacred geometry. Using a preexisting visual language of scientific illustration to represent the natural world, Aldridge's creatures seem lifelike, but are also almost always depicted in idealized poses. It is very rare the natural world is depicted without the subjective hand of the artist, even in highly technical representations.
The species are represented in a very unnatural setting, like in the birding books which are specifically drawn to provide easy identification by isolating and listing the species, Aldridge's images are a place where species are collected and held together, even if they would never interact with one another in the natural world. The trees represented in his work also exemplify this technical approach to nature, which are drawn in a methodical method, to represent a quite natural pattern in the world. Because of these posed representations, the images of animals harken folkloric imagery of an idealized world.
His interest in what makes you believe or gives you a feeling of belief leads him to employ multiple means of deciphering 'truths' including representational scientific imagery, alongside the more subjective religious or non-representational depictions in his work.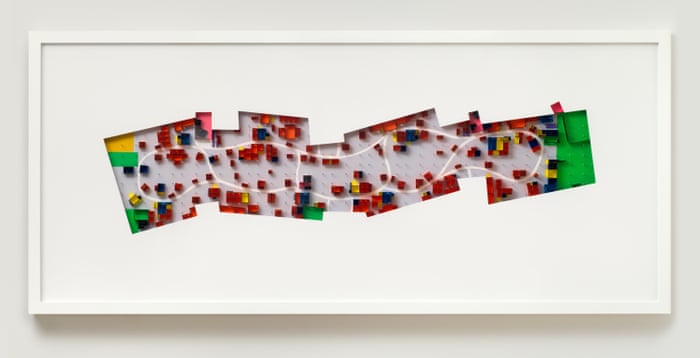 Similarly, Langlands and Bell employ the use of a pre-exhisting visual language of diagrams and blue prints. This language is established in architectural diagrams, floor plans and schematic diagrams, with changes to subvert our understanding of indoor/outdoor space.
Their project Infinite Loop takes plans for Silicon Valley Tech Industry buildings, which present according to Langlands and Bell "a fantasy of total control," which "…oozes strategy, ambition, globalization and technology; it so thoroughly embodies what these companies are about," (https://www.theguardian.com/artanddesign/2017/apr/26/langlands-and-bell-artist-duo-silicon-valley-architecture-apple-facebook-infinite-loop) and strips the buildings of their human interaction, leaving room for a new audience's perspective. This desire to challenge the typical conventions through "strategic architecture" results in the construction of immaculate models of buildings which speak to the tech industrie's influence on the world, but also on a personal level.
From downloaded drawings of municipal planning authority websites they build up the required information for new diagrammatic interpretations which simplifies the real world to reveal the very basic, cold layouts of buildings that day to day are actually filled with life and activity. These real world building are designed to impact our lives, and the way we use these spaces/how we travel through these spaces. Using this diagrammatic language we can recognize these images as floor plans for architectural lay outs, but also abstract images through the removal of practical information. This creates a tension between the objective, cool, calculated scientific representations, and the artistic works that stem from them.
The works of Langlands and Bell, immediately reminded me Ighby and Lemmens' practice which traveled to my home town last year. Each Number Equals One Inhalation and One Exhalation presented a series of sculptures which in one way of another, referenced graphical representations relating to labour. In a similar fashion to the diagrams of how spaces are used to influence how to move through space and occupy it, these diagrammatic representations influence the way we think about how we use space related to labour and creation, be it in an early industrial manufacturing plant or google headquarters. Ighby and Lemmens' graphical representations work to translate very complex representations of systematized human labour and question how these diagrams influence how we value that labour. In the diagrams which inspire these artworks which are always 2D, remove any indication of human life, but that human touch is reinserted to the work through thoughtful material choice in constructing the sculptures and writing the labels. On the slabs of wood they use, you can see the saw marks and little bits of hot glue, or slivers, making them imperfect, and reflecting a human touch.
Similarly, Leah Garnett's installation when one space becomes another draws upon architectural drawings, and plans, but from a more personal perspective. She writes about her work: "My father builds custom homes, so I grew up on construction sites, and later I worked on them. This foundational experience shaped how I think about space: how we construct, mold, and contain it. It also influenced how I make things. My 3D vocabulary stems from an early immersion in construction, that while far from masterful, is the language that I brought to making art. When One Space Meets Another is a return to my roots in construction, filtered through my sculpture, installation, and drawing practices. Specifically, When One Space Meets Another provided me with an opportunity to range over questions about construction sites. What is the relationship between landscape and architecture where the temporary and transitional construction site becomes a hybrid of the two? As a temporary and nomadic site of labor, how does a construction site compare to a studio, particularly the temporary studio occupations of artist residencies? And finally, what are the results and implications of transposing multiple spaces and landscapes into a single location?" (http://www.mta.ca/owens/exhibitions/index.php)
I think these questions she asks herself are similar to the ones Langlands and Bell, and Ighby and Lemmens are asking in their work. There is a push and pull between the handmade structures and diagrams and the very polished schematic that they are influenced by. All acknowledge the way we influence architecture, as much as architecture influences us, but there are different personal reactions to both. Through using these per-established forms of visual language, the artists allow the viewers room to look a new at scientific information, and perhaps question why we value it over subjective reasoning in the search for representations of truth.