I had an amazing opportunity the past week to travel to Vancouver BC (the other side of the country) for the Museums and the Web Conference. This conference brings together institutions from all over the world, to feature advanced research and applications of digital practice in museums of all kinds, including cultural, natural and scientific. Over 100 papers are published through this organization, and are freely accessible online. It is an amazing resource for museum professionals, but also artists who want to work in new media.
In my new position as Curator of Digital Engagement this was an amazing opportunity to learn, network and generate ideas that will aid my institutions ability to connection with audiences, but also to aid the artists we support. More over, this also directly affected me as an artist, as many of the projects highlighted were implemented by digital teams, but are the ideas and research work of artists and curators.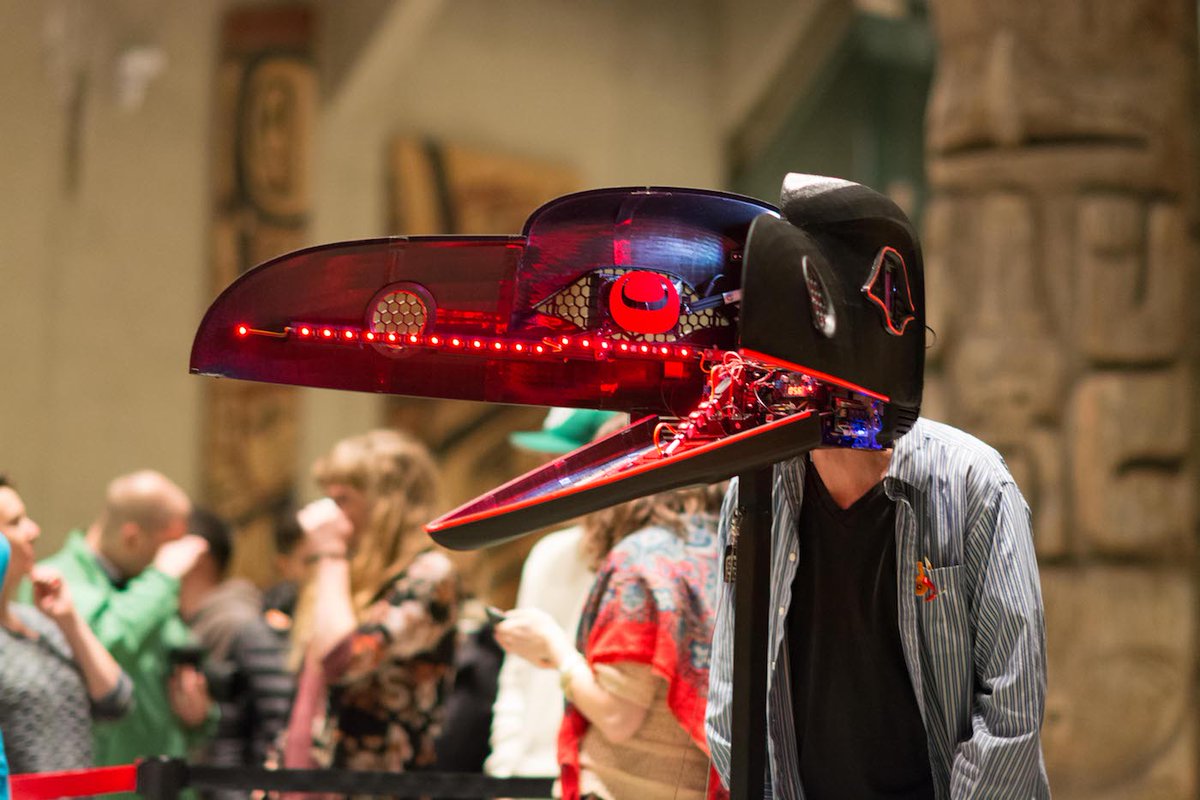 I was able to experience Heiltsuk artist, Shawn Hunt's Transformation Mask, a VR experience that really transcends the traditional and the new media.  This work, made in collaboration with the Microsoft Garage studio, responds to the theme of transformation in indigenous art. This work is amazing technically, but also conceptually, allowing anyone to wear and perform the mask is in itself a uninformative experience.
During the conference I was also able to visit the Vancouver Art Gallery. There they had on the major retrospective Takashi Murakami: The Octopus Eats Its Own Leg. With many of his monumental sculptures and paintings the conference was really enthralled by the spectacle of this show, and the ridiculous amount of gift shop souvenirs. While I really appreciate how the show highlighted his dedication to craft, and included some of his more humble early works, I found the whole show a bit underwhelming. It was strangely laid out with tiny galleries that seemed detached from the rest of the large works in the exhibition and the was no flow between his early works and the large show stopper pieces. Over all the show did tie in well with the other exhibitions on view, and I am sure brought in a slightly different audience than usual, which is always a good thing in my opinion.
At the VAG I was more excited by the permanent collection, which had some great Joseph Beuys works and Munch. They also had another show on which drew upon archival objects and works from their collection: BOMBHEAD. This thematic exhibition explored the impact of the nuclear age on art and artists. These nuclear technologies have such a strong association with obliteration and destruction in the mid-20th century, still seemed a very timely exhibition. From the VAG website:
"Encompassing the pre- and postwar period from the bombing of Hiroshima and Nagasaki in 1945 to the triple meltdown at Fukushima Daiichi in 2011, BOMBHEAD brings together paintings, drawings, prints, sculpture, photographs, film and video that deal with this often dark subject matter. The exhibition will address some of the most pressing issues of the postwar era. What has been the role of art in producing an image of the bomb and nuclear energy? Have nuclear art and images heightened or lessened anxieties about the atomic threat, or have they done both simultaneously? How should different expressive approaches to nuclear risk be understood?
Artists in the exhibition include: Carl Beam, Henry Busse, Blaine Campbell, Bruce Conner, Gregory Coyes, Robert Del Tredici, Wang Du, Harold Edgerton, Gathie Falk, Robert Filliou, Richard Finnie, Betty Goodwin, Adolph Gottlieb, Richard Harrington, David Hockney, Jenny Holzer, Robert Keziere, Roy Kiyooka, Bob Light and John Houston, Ishiuchi Miyako, Carel Moiseiwitsch, Andrea Pinheiro, Robert Rauschenberg, Mark Ruwedel, John Scott, Erin Siddall, Nancy Spero and Barbara Todd."
Beyond the VAG we visited the Museum of Anthropology which had an amazing permanent collection all on display which I sent hours going through the drawers of. This collection did seem to me to have some issues in terms of repatriation, and I was glad I didn't actually have to pay the 16$ entrance fee.
The highlight of my trip was the Vancouver Contemporary Art gallery which was completely free admission to everyone, and had all free programming as well as many free publications. They had one exhibition on view The Blue Hour, which had great writeup on their website: https://www.contemporaryartgallery.ca/exhibitions
This exhibition explored the notion of photography as invention and as a tool as it relates to the future and present. It draws on the ideas of critical theorist Kaja Silverman who suggests in The Miracle of Analogy: The History of Photography, Part I, that photography is "an invitation to upend canonical readings of photographs, which emphasize their simultaneous demonstration of this-has-been and this-is-no-more.". Suggesting that a photograph is not unalterable and that we should consider photography as "the world's primary way of revealing itself to us – of demonstrating that it exists, and that it will forever exceed us." Photography acts a more than just a tool to create memories.
The exhibition presents works by five artists; Joi T. Arcand, Kapwani Kiwanga, Colin Miner, Grace Ndiritu, and Kara Uzelman. These artists consider how the photographic image can be used in the future in relation to polotoc, geology, comology and philosophy.
Though this exhibition was not a part of the conference I was really glad to see it. Overall I feel so grateful to have had the opportunity to travel and see all these works, but in the context of the conference I have begun to wonder if it is the responsibility of the arts administrators and digital teams to put this technology in the hands of the artists, or if we need to be doing more ethical checks to see if we really need all this corporation supported tech, and how the tech is altering our understanding of the worlds we inhabit.